Mama, Belk's, and Me
Flavius B. Hall, Jr.
Mama, Belk's and Me is everyone's family story and the special loving ties that help develop an individual's life. This beautiful story chronicles events and fond memories of the author, Flavius Hall, Jr. in his relationship with his family, and especially his mother, Myrtle Hall, and her love for shopping at Belk's. As much as Myrtle enjoyed shopping, however there is no doubt that her commitment to her church, her Christian faith, and being an exemplary mother and wife were her ultimate goals and mission. By having four children, a husband, and a large extended family, weekly shopping became a necessity in her life. Myrtle loved searching for bargains at Belk's and often returned home with needed items such as a new pair of pants for her son or new Sunday dresses for her girls, Wanda, Martha, and Sarah.
As a young boy growing up in New Bern, North Carolina in the 1950s and 1960s, Flavius or better known by family and friends - F.B., spent many hours in Belk's on Middle Street with his mother. The times he accompanied her on her shopping trips often became the "first'' in many aspects in his life, such as buying his first store-bought clothes, riding the elevator and the new escalator, and experiencing numerous other unique firsts that happened while shopping in a Belk's store. Flavius recalls with vivid memory the New Bern parades, downtown movies, Hula Hoop contest, dentist visit, and bus rides from Clark's Drugstore on Middle Street to his family home in the Sunnyside Section of New Bern.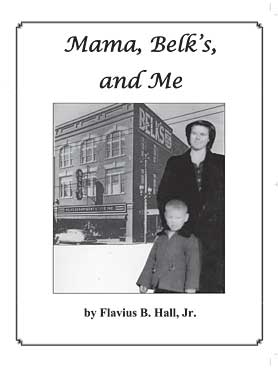 After beginning his career in art education, Flavius still continued his loving shopping relationship with his mother whenever he was home in New Bern. The fond memories of downtown New Bern from his childhood and teenage years became special lessons and observations that meant more than he ever realized. These experiences helped shape his life, and fortunately, many of the treasured memories were of his mother while shopping at Belk's.
To enhance the text of Mama, Belk's and Me, included are numerous never published photographs of New Bern Belk Department Store and downtown New Bern. This nostalgic book is for everyone and especially for those who remember Belk's on Middle Street.
To buy this book ($20.00) Email Flavius Hall: f.hall@comcast.net