In the Sweet By and By
Flavius B. Hall, Jr.
In the Sweet By and By is the true story of family love told through the voice of Myrtle Holland Hall, the author's mother. The story is set in the summer of 1936 in and around Swansboro, North Carolina during the Depression. Myrtle, at fourteen, along with other family members took care of her dying sister, Marie Parker, affectionately known as "Sissie". Marie was a farmer's wife who became ill from a tooth infection which led to blood poisoning and to her eventual death. Marie and her husband Lee had three young boys, aged two, four, and six, and soon were expecting their fourth child. This story chronicles the events of the week of Marie's illness, August 8-16 as witnessed by Myrtle. The events including Marie giving birth to a baby before she died and the overwhelming sadness felt by each family member challenged and strengthened the family's Christian faith. This tragedy changed Myrtle forever as she left behind her childhood and became a woman. The theme of the story, like the words of the Christian hymn "In the Sweet By and By" offers the hope and joy that someday we will meet our loved ones in heaven "and our spirits will sorrow no more on that beautiful shore."
To buy this book ($15) and the associated CD ($5)
Email Flavius Hall: f.hall@comcast.net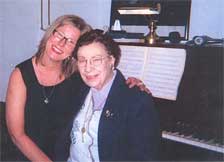 Sarah Hambidge, with her beautiful soprano voice, sings three hymns, tracks 1-3 to accompany the book In the Sweet By and By written by her brother, Flavius B. Hall, Jr. A cousin of the author, Margaret Webb embellishes the sound of each of the hymns with her distinct musical style as she plays the piano. Sarah and Margaret combine their talents to create a unique blending of perfect harmony. Margaret's wondrous piano renditions of her favorite hymns, tracks 4-9 "feels your heart with song." The book as well as the recording of the hymns grew from a seed of family love that blossoms here for all to enjoy.
To buy this book ($15) and the associated CD ($5) Email Flavius Hall: f.hall@comcast.net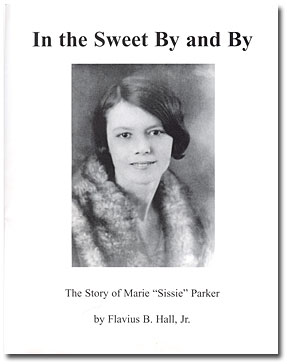 Music CD:
Title – In the Sweet By and By
Vocalist – Sarah Hall Hambidge
Pianist – Margaret Miller Webb

Audio Sample
Track 1 – There's a Land That Is Fairer Than Day (Sweet By and By)
Words by Sanford F. Bennett - Music by Joseph P. Webster

Track 2 – Softly and Tenderly
Words and Music by Will L. Thompson
Track 3 – He Fills My Heart with His Song
Words and Music by Flavius B. Hall, Jr.
Track 4 – When They Ring Those Golden Bells
Music by Bill and Gloria Gaither
Track 5 – He Touched Me
Music by Bill Gaither
Track 6 – Because He Lives
Music by Bill and Gloria Gaither
Track 7 – Nearer, My God, to Thee
Music by Lowell Mason

Track 8 – It Is No Secret
Music by Stuart Hamblin
Track 9 – Cleanse Me
Music by Norman Johnson