My Journey through Poems and Paintings
Flavius B. Hall, Jr.
Flavius Hall has taken his interest in the visual arts and poetry in combining them to offer a glimpse of his life's "journey." From his childhood days in New Bern, North Carolina, through majoring in art education, to teaching art, "the arts" have been his life-long love. Many of the paintings and poems in the book span several decades from Flavius's college years at East Carolina University to the present.
While Flavius's paintings depict a beauty of the world, his poetry conveys a deeper questioning to evoke an emotion, a purpose, and an insight for reflection. Both his paintings and poems are experiences of his journey. Flavius states, "This journey is the deeper emotional journey that we all travel when sharing our love, our dreams, and inspirations. I share my journey to awaken you to your journey."
Including in the book are twenty colored images of Flavius's artwork. The following poem "Oh, I Would Like to Fly with You", along with Flavius's painting "Flight" illustrates one example in the book of the combined energy and love in his "journey."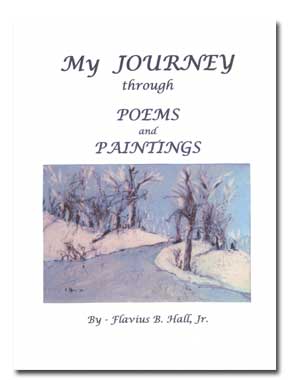 To buy this book ($35) Email Flavius Hall: f.hall@comcast.net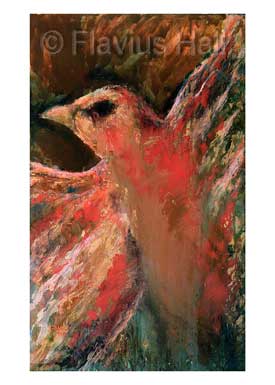 Oh, I Would Love to Fly with You
Oh, I would love to fly with you,
Soar through the skies
With heaven's blessings.
But I have already flown,
And time has gone for me.
Oh, we could fly for a week or two,
Maybe even a spring,
My wings would unfold
And spread for awhile,
But not for a lifetime.
You will need to fly without me,
But you will know,
When I gaze into the skies to see you,
To remember our time,
And know you are safe.
©Flavius Hal
To buy this book ($35) Email Flavius Hall: f.hall@comcast.netl